Theralux – By Aquachem

For sensitive skin, including young children and people with conditions like eczema and dermatitis, Theralux is the ultimate choice.


Representing over 100 years of water purification expertise, Theralux is the healthiest, most affordable and environmentally friendly way to transform your pool into a rejuvenating therapeutic experience. Combining advanced filtration technology with a natural mineral formula, Theralux provides the healthiest and safest swimming environment for your backyard.
Harnessing the cleansing elements found in natural mineral baths and oceans around the world, Theralux eliminates issues common in less sophisticated systems such as green water, stinging eyes and itchy skin. Now you can swim in comfort, free from the bitter taste of salty water and the harsh, chemical smell of chlorine lingering on the body long after you've left the water. What's more, as Theralux is highly energy efficient, you can enjoy a rejuvenating swim while making substantial savings on your electricity bills.
Find the right Theralux system for your pool today and enjoy the luxurious swimming experience you and your family deserve. You'll discover the improvement in water quality and the therapeutic benefits to all who swim in a Theralux pool.
GOOD HEALTH
With our treated mineral pool water is filled with natural moisturisers, which leaves the skin feeling soft and smooth, perfect for those with sensitive skin ailments. With our cutting edge filtration equipment provides crystal clear clarity, eliminating germs and bacteria from your pool while ensuring a clean, mild taste. Mineral enhanced pools deliver a range of healing benefits, ensuring you feel relaxed and rejuvenated after every swim. Mineral enhanced pool is valuable to those who are pregnant. Several researchers have found that proper levels of magnesium during pregnancy can help keep the uterus from contracting prematurely. Our mineral pool will also treat pregnant women with tissue repair, providing relief to a body that is being pushed to its limits.
MORE EFFICIENT 
The entire Theralux system has been designed to be as energy efficient as possible. Our 8 star energy rated Theraflo tvs pool pump will provide substantial electrical consumption savings over its lifetime. Our Theraclear filter and glass filtration media produce optimum hydraulic conditions for your pump to deliver considerable energy savings.
ECO INTELLIGENCE
By reducing the amount of water required to top up your pool after backwashing, our advance mineral pool system helps save this precious resource. This will provide considerable literate savings over the life of the system. Aquachem advance mineral pool system will play a role in reducing urban salinity, with an impressively low salt/ Mineral content of 3000ppm. With the advance pool filtration system, pool water requires less ongoing treatment, cutting the use of harsh chemicals.
SMART MONEY
Due to its outstanding energy efficiency, the Theralux system delivers substantial cost savings over its lifetime. By reducing the need for backwashing, Theralux also significantly reduces water usage and costs. The reduction in backwashing also minimises the amount of chemicals required for balancing, saving you even more money. Due to its superior design, the Theralux system also reduces the need for specialty chemicals like clarifiers & Algaecides, further reducing your expenses.
THE END OF HEAVILY CHLORINATED POOLS
We believe the time of heavily salted or chlorinated pools is over. Through our combined experience and expertise, we aim to deliver you the healthiest, safest, most cost effective and environmentally friendly swimming environment possible.
Several scientific studies of swimming pool water have recorded the beneficial effects certain mineral compositions have on the human body. One composition in particular, magnesium chloride, has been proven to provide a number of substantial health and wellbeing benefits to the bather.
Mineral enhanced swimming pool water provides a softer and more natural feel. Its mild flocking capabilities help to filter out extremely fine material such as dust and dirt, providing a crystal clear swimming pool all year round. This reduces the need for specialty chemicals like clarifiers and algaecides, delivering you further cost savings.
A mineral enhanced additive feels pleasant, has little to no taste and moisturises your skin as you swim. For sensitive skin, including young children and people with conditions like eczema and dermatitis, Theralux is the ultimate choice. It also provides natural relief for injuries and muscular complaints-using a mineral content, it will be absorbed through the pores of the skin, relaxing the nervous and muscular system.
Each year millions of people fly around the world to exotic locations to bathe in natural mineral baths and springs. These proclaimed 'fountains of youth' contain naturally occurring combinations of minerals that soothe the body and relax the mind. Using a mineral enhanced additive will produce the same therapeutic effect. One swim leaves you feeling calm, nourished, rejuvenated and revitalised. It's like a natural bath in your backyard.
When compared to a traditional salt and chlorine pool sanitation, a Theralux pool is also the best choice for the environment. Our efforts to reduce sodium usage in our pools help reduce urban salinity and because salt is highly corrosive, using less prolongs the life of any accessories and products used in and around your pool. A mineral enhanced additive can be added to any pool to improve the swimming experience, we recommend using the additive in conjunction with the entire Theralux system to unlock the full potential of natural mineral swimming.
Play your part in a greener tomorrow and enjoy a more luxurious swimming experience for you and your family, switch to a Theralux pool today.
BENEFITS & HOW IT WORKS
Once the Theralux system has been installed, an enhanced mineral additive can be added to the pool water. The additive will then usually take between 12-24 hours to completely dissolve, depending on the amount added. At this point, the Theralux system can be turned on via the user-friendly control panel on the Therachlor chlorinator.
The Therachlor chlorinator communicates with the Theraflo tvs pool pump to automate waterflow. Mineral water is pumped from the pool into the Theraflo tvs and transferred into the Theraclear filter. It is here where the mineral water flows through the Theraclear glass filtration media, providing fine porosity filtration, eliminating foreign particulate matter. The right enhanced mineral additive will also provide mild flocculation affects within the pool water, allowing for finer filtration.
Once filtered, the cleansed mineral pool water is pumped through the Theratherm heat pump where it is heated to the desired swimming temperature. The warm mineral water is then pumped through to the Therachlor cell where any bacteria is eliminated through electrolysis. This process also produces a natural emollient by-product that is pumped into your pool to provide superb water clarity and a healthier swimming environment.
All that remains now is for you to dive in your new Theralux mineral swimming pool. The first thing you'll notice is the crystal clear clarity of the water. The water will feel soft and pleasant with no taste or smell and will not irritate the eyes or skin. It's a pleasure to bathe in. After your swim, your skin will feel soft and moisturised. Your Theralux mineral pool will leave you feeling relaxed, rejuven ated and ready to get the most out of life.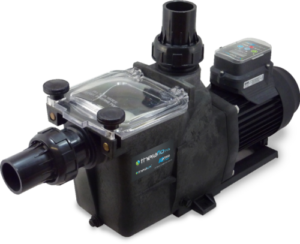 THERAFLO TVS 8
Want the latest pool systems in your pool?
The Theraflo tvs 8-star energy rated pool pump provides considerable energy and cost savings due to its efficient motor design, reducing your carbon footprint. Features & Benefits: Suitable for any swimming pool system. Highly efficient 8-star energy rated motor reduces running costs. Environmentally-friendly axial flux motor reduces your carbon footprint. Low noise operation allows you to take advantage of off-peak hours. True variable-speed motor adjustment allows you to select the best pump speed for your swimming pool filtration and cleaning needs. 3 factory pre-set speeds for easy use straight out of the box. True variable-speed LCD that displays the pump motor rpm speed for easy reference. Adjustable quick connect barrel unions for simple installation of both 40mm & 50mm pipe. Large clear square lid with 2-screw down clamping knobs is easy to remove.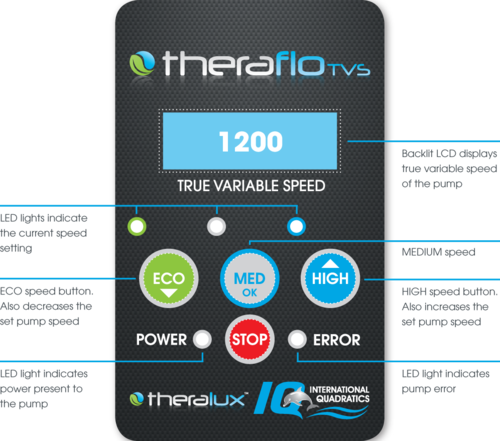 THERAFLO TVS 8 TECHNOLOGY
The Theraflo tvs 8 star energy efficient swimming pool pump marks the forefront of innovation in pool technology. It features 3 factory pre-set speeds that can be selected at the push of a button at any time during the run cycle – eco, med, high. The revolutionary true variable speed lcd displays the selected rpm speed. However, if you feel that the water flow produced at these pre-set speeds is not suitable for your requirements, you can adjust the true variable speed by 50rpm increments until you achieve the desired water flow. This adjustment control allows you to select the most efficient speed for your swimming pool filtration. It also allows you to increase pump speed for any type of cleaning or backwashing, providing you with the most flexible and effective pump on the market today. The adjustable speed controls allow the Theraflo tvs to operate more energy efficiently, saving you thousands of dollars over its lifetime. Is much more economical to run.